Terkini @ Portal JPedia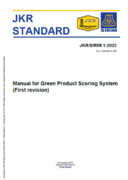 JKR/SIRIM 1:2023 Manual for Green Product Scoring System (First Revision) was developed by the Project Committee on Green Product Scoring System established by SIRIM Berhad.
This standard was developed with the following objectives a) to provide a systematic and structured assessment system for green products used in building and road projects; b) to enable the measurement of the percentage of green products used in building and road projects; c) to educate and create awareness among the stakeholders on green products and services; and d) to encourage manufacturers and/or traders to obtain green product certification from independent certification bodies based on the specified requirements.
JKR Standards are developed according to SIRIM Berhad's standardisation procedures, which are in line with international practices that ensure appropriate participation of interested parties. As a standards development organisation, SIRIM Berhad has extensive expertise in standards research and consultancy which helps industries and businesses meet local and international requirements and practices.
JKR Standards are developed in collaboration with SIRIM based on JKR Malaysia's initiatives as a technical advisory in infrastructure development for the Government of Malaysia. The standards provide requirements, specifications, guidelines or characteristics that can be used to ensure that materials, products, processes and services are fit for their purpose.
Dokumen Terbaru @ Portal JPedia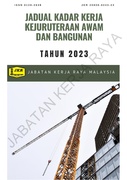 Jadual Kadar Harga Kejuruteraan Awam dan Bangunan Tahun 2023 Kadar-kadar harga di dalam Jadual Kadar Harga ini hendaklah digunakan untuk perkiraan kos bagi kerja-kerja yang dijalankan secara undi. la tidak sekali-kali boleh digunakan untuk mengira harga bagi Kerja-kerja Perubahan di dalam mana-mana kontrak yang berasaskan Senarai Kuantiti atau Pelan dan Spesifikasi. Jika terdapat butir-butir kerja yang kadarnya tidak terdapat di dalam Jadual Kadar Harga ini, harga persetujuan bolehlah digunakan dengan syarat jumlah nilai ke|rja berasaskan harga persetujuan ini tidak melebihi 30% daripada harga asal 'Requisition' (harga asal ini tidak termasuk harga yang berasaskan harga persetujuan). Jika harga persetujuan ini melebihi 30% daripada harga asal 'Requisition', kerja ini hendaklah dipanggil secara sebutharga. Kadar-kadar harga ini adalah berasaskan nilai kerja-kerja di kawasan Kuala Lumpur dan adalah tertakluk kepada tambahan peratusan di perenggan 1.2 sekiranya kerja-kerja dijalankan di kawasan lain di Malaysia. (Full article...)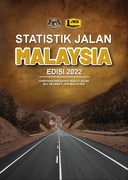 Statistik Jalan Malaysia Edisi 2022 menyediakan sumber rujukan penting kepada agensi berkaitan dalam menggubal dan melaksanakan polisi kerajaan untuk tujuan pembangunan negara dan kepentingan rakyat. Dengan ketersediaan statistik yang teguh ini, penyaluran sumber negara terutamanya bagi perancangan penyenggaraan jalan dan pembangunan infrastruktur negara dapat dilaksanakan secara cekap dan berkesan. Selain daripada data-data Jalan Persekutuan dan Jalan Negeri, informasi berkaitan had laju dan had berat juga disertakan bagi memudahkan setiap agensi mengenalpasti had laju dan kapasiti beban kenderaan berat di sesuatu jalan. (Full article...)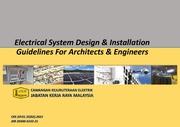 The supply of electricity to projects has been taken for granted. It is always assumed that at the end of a project and before handing over to the clients that electricity supply will be available too. General perception is that this is a sole responsibility of CKE.
In actual fact, the supply of electricity to a project requires thorough planning and coordination among all the various technical discipline involved in the project namely, architects, structural engineers and mechanical engineers.
Various audits and reports, such as "Laporan Pemantauan Projek", have indicated that among causes of projects delay was delay in construction of substation buildings. While CKE's Electrical Construction Quality Inspection (ECQI) and Project Lesson Learned Post Occupation Evaluation (POE) reports have pointed out several problems that relates to the size/and/or locations of service rooms; namely inadequate room size that renders difficulty in maintenance; and inappropriate location that complicates construction and increase chances of defects.
Thus, the guideline is meant to provide other discipline guidance for requirements of spaces, locations and other criteria that would enable a functional, maintainable and sustainable electrical installation system (LV, ELV and ICT) in all projects.